I posted in another thread a bit about this armour, but I thought I would start a specific thread on it, now that I'm working on it again (I took time off the restore my dad;'s race car for it's 40th anniversary)
It is a copy of a Greenwich armour with medium decoration. Most closely styled after the armour of Sir Thomas Sackville, Lord Buckhurst. The "Buckhurst" armour that is currently in the Wallace collection. (A62)
There is a nearly identical armour at the Metropolitan museum in NYC,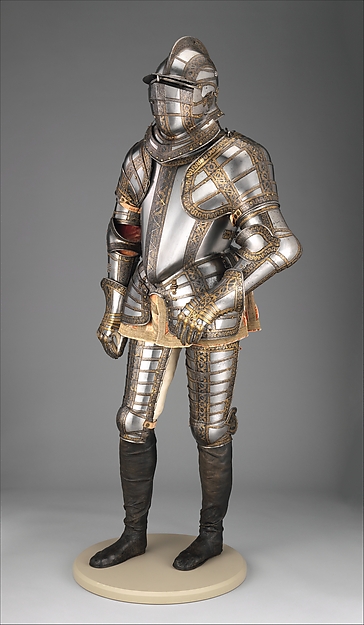 Also a half armour in Art institute of Chicago. (this was recently featured in the NOVA special)
I commissioned Mac in 1999? for this armour, but during it's construction Mac injured his elbow. So it sat for awhile. About 3 or 4 years ago I approached Jeff Wasson about finishing it. At the time, approximately 70% of the main suit was complete, but I really wanted a full garniture so there was quite a few pieces left to make.
The suit is being made from 1050 and will be fully heat-treated, acid etched and either gold plated or fire-gilded, then salt blued.
It will consist of: the full suit, with burgonet and falling buff, like the two complete extant suits. In addition, there will be a close helm with interchangeable field & joust visors, reinforce breast, grand guard, couter, manifar, & Locking gauntlet.
As of now, all the pieces are formed and about 70% are ready for heat-treat. Last year, Jeff has delivered the the cuisses, greaves & gauntlets, which I have already heat- treated.
I am currently working on the etching process. Due to my lack of drawing skill, and the massive amount of etching on this suit, I decided to use a computer to generate the artwork. To start, I trace the etched patterns from closeup images of the extant armour and then use a plotter/cutter to cut vinyls as a mask/ resist. This is working very well and I can maintain the very fine hand drawn look, but pretty quickly make the hundreds of inches I'll need for all the boarders. In some places, I have made masking tape patterns of the sunken boarders where the patterns need to match specific curves or tapers, I scanned those patterns and using Corel Draw have adjusted the artwork accordingly.
For the etching, I'm using the same etch paste recipe that was used on the replica breast & back that Jeff built for the NOVA special, copper sulfate, salt & vinegar. This recipe I understand was derived from a period source and translated into modern chemicals by a scholar who specializes in medieval chemistry. Perhaps Jeff will chime in with additional info here.
I'll get the test images set up on our server later today and post some images of the tests.